Our church is involved in various local outreach programs throughout the year. Here are some of the outreach programs we are actively involved in:
Family House
We donate to Family House throughout the year. Family House provides housing and social services in a safe, caring environment to homeless families in crisis throughout the Toledo area. Using education, community resources, and compassion, Family House strives to assist families in crisis to get permanent housing, regain control of their lives, and regain their independence. They keep families together in times of need. They give a hand up, not a handout.

Fountain Square
At Echo Meadows Church, we are committed to serving the community. One of the ways we do that is by hosting a winter holiday meal for the residents of Fountain Square Apartments. The meal is a great opportunity for us to get to know our neighbors, and it's also a great way to give back to the community. We also sing songs and have a short devotional time. We also provide care packages for the families at Fountain Square as a holiday gift. It's a great chance to connect with others and to spread the message of Christ.
Food Pantry
As part of our church outreach, we have a food pantry where we give food to those in need. The pantry is stocked with many types of perishable and non-perishable foods generously donated by church members and community members. It is open to anyone regardless of income. Our pantry is staffed by church volunteers who are always ready to help.
If you would like to donate items to the food pantry, here are some fantastic recommendations:
Pancake Mix
Pancake Syrup
Tuna Helper
Tuna Fish
Crackers
Canned Corn
Mac & Cheese
Spaghetti Sauce
Canned Spaghetti
Peanut Butter
Pork & Beans
Alcoholics Anonymous
Echo Meadows Church of Christ proudly supports the Alcoholics Anonymous program. We do so by hosting an AA meeting every Friday night in our building. There is a strong showing at each of these meetings, and many in our community are able to get the support that they need to overcome their addiction.
Clothing Giveaway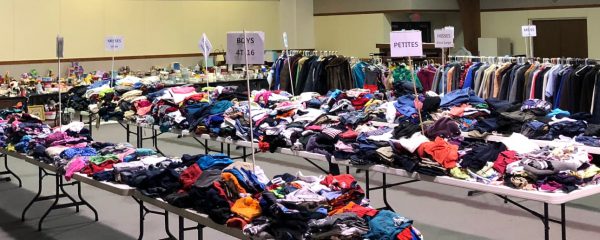 We have a clothing giveaway in the spring and in the fall at our church. We collect gently used clothing and give it free of charge to people in need. Our event is open to the public and it is completely free. You are also welcome to enjoy coffee, drinks, and donuts for free at the event. Just make sure you get to the church early or you might miss out!
In light of the recent COVID pandemic, this giveaway is more challenging than ever. Hopefully we will be able to do it again in 2022.
Service Projects
Our church youth are involved in various service projects throughout the year that benefit our community. Some of these projects include working at a local food pantry, helping the City of Oregon with cleanup projects, and making blankets and backpacks for Lucas County Family Services.
Community Day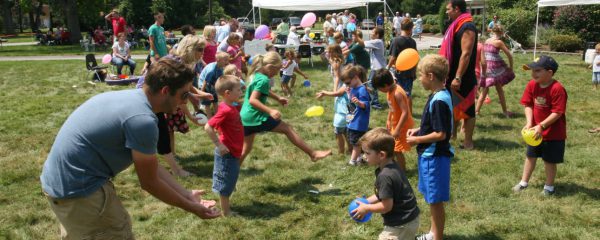 Echo Meadows Church of Christ hosts a Community Day every year. It's held in July and helps kick off Vacation Bible School. Since it's such a big deal to us, we like to kick it off with a community event.
All the community is invited to come out and have fun. Some of the frequent things we have at Community Day include:
Bounce house
Dunk tank
Games
Snow cones
Candy
Popcorn
Lot's of food
It's a great time for kids. There are a lot of games to play during the day, bounce houses to jump into, and various other events to keep everyone entertained.
You will also have the chance to enjoy some great food, so make sure you bring your appetite. After lunch, you can munch on some popcorn, get a snow-cone, or load up on candy.
And what's the best part? The event is absolutely free! We hope that you will be able to join us at Echo Meadows Church of Christ for this awesome community event.
You and your family will love it. Hope to see you there!
Vacation Bible School
Vacation Bible School is a great way for kids to learn more about God, Jesus, and the Bible. It's a fun-filled adventure every day with skits, crafts, games, and more!
Our VBS usually takes place in the month of July or early August. It's a fun and exciting for your child to learn Bible stories, make crafts, play games, sing songs, and make new friends.
Vacation Bible School brings Bible stories to life! Kids will learn Bible lessons in small groups led by caring adults. It is also a great opportunity for your child to get to know other children their age.
In addition to VBS, we also have an adult class that teaches the Bible. It's also a great time to meet new people who share similar interests over some refreshments and coffee.
We invite you to join us for Vacation Bible School this summer! It will be an adventure you won't want to miss!